What is Attar?
Attar started in 2008 by Tanya, Kashmir and Zumarrad with the idea that pool of dance professionals and serious dance recreationalists with knowledge, skills and expertise could support and develop Belly Dance and Belly Dance professionals in New Zealand.
How does Attar define "Belly Dance"?
"Dance developed from Middle Eastern and North African solo, improvised dance characterised by torso articulations which still maintains elements and character of its roots". This would include not only raqs sharqi/danse orientale and AmCab but also beledi, some of the base Middle Eastern folk styles and Tribal styles that maintain the links to the ancestor dances.
What is Attar's Aims?
To raise the profile of Belly Dance as a high performance art as well as a recreational Art in New Zealand and to recognize the difference.
To support, promote and encourage quality and professionalism in all aspects of the dance including (but not restricted to) teaching, choreography, events management, production, direction and performance.
To create an environment of support and mutual cooperation between members within the professional and serious recreational dance community.
To encourage and support opportunities for professional development for members both within New Zealand and overseas.
To support, actively promote and organize quality events that will assist in furthering the aforementioned goals in New Zealand.
To seek out and use effectively any existing structures or organizations that may assist in furthering the aforementioned goals.
Attar Workshops
Attar works towards these goals by providing workshops that:
Guarantee quality and consistency of workshops
Guarantee content to focus on Belly Dance
Cater to advanced learning as well as recreational learners
Past Events
In 2010 Attar toured the
inaugural Attar Travelling Conference
to Auckland, Christchurch and Wellington. The event was very well received and a similar event may be repeated in 2011.
In 2008 Attar held Teaching Discussion groups in Christchurch and Auckland. These events concentrated on sharing ideas for teaching a limited number of basic moves to beginner students.
The Attar Collective:
Tanya
Tanya is based in Tauranga and started studying Belly Dance in 1988 after many years of classical ballet and some Jazz and contemporary dance. She taught junior level RAD at age 14 and started teaching belly dance in 1992.
Tanya taught and performed in Auckland until 1995 when she moved overseas, taking the opportunity to perform and study Oriental dance in Luxembourg, Germany, France, England and Tunisia. She also accepted invitations to teach workshops in Germany and France.
Tanya has studied under many of Egypt's master teachers in not only in Cairo, but also Sydney and Brisbane including Raqia Hassan, Giseffi, Nagwa El Sultan and Randa Kamel. (For a full list of the teachers she has studied under see her full bio.)
Tanya brings a wealth of experience and knowledge to the Attar Collective; as a performer, teacher and director. Her talent for absorbing and passing on knowledge and for producing consistently high quality dance product is well known and respected in the New Zealand belly dance community. She has been guest instructor several times at the Middle Eastern Dance Festival of New Zealand and the Sydney Middle Eastern Dance Festival. She also teaches workshops regularly around New Zealand as well as hosting retreats at her own property, Haven Thyme. She also regularly sponsors overseas master instructors to teach workshops around New Zealand.
In 1997 she established her own dance school, Art of Movement, which continues to thrive today. She manages and directs the award-winning community dance troupe, "Belly Hoo", as well as her own professional dance team "Dangerous Curves Ahead."
Tanya has a special knowledge of and affinity with Balady and Orientale style belly dance. However, her teaching philosophy is driven by her passionate belief that building a strong, safe and beautiful base technique, and nurturing a respect for the culture, aesthetics, substance and feel of each performance and dance style, will give a dancer a strong base on which to build any dance.
Website: www.artofmovement.co.nz
Kashmir
Kashmir is based in Christchurch and started studying Middle Eastern Dance in 1991 and started teaching in 1997. She has run own school - Belly Raqs with Kashmir - since 2001.
Kashmir was strongly influenced by Egyptian teachers from the Brisbane Winter Warmup and has specialized in Egyptian folk and beledi. Her major influences are Denise Enan and Aida Nour. (For a complete list of teachers see her full bio.) Her own dance style is very much the bint al beled - relaxed but theatrical.
Kashmir has a strong interest in the history of belly dance, the huge number of associated folk styles and the culture of the Middle East. She gave an illustrated lecture on Roots and Branches to MEDANZ in 2001 and has been asked to repeat this information to several belly dance schools throughout New Zealand.
Kashmir's other area of interest is in how movement is generated and how this can be done safely for all dancers. To this end she has studied with Michael Dalgleish and also completed the Safe Dance paper at QUT.
Kashmir's non-dance background includes training (and working) as an Electrical Engineer and later a High School teacher. Since 1988 Kashmir as worked in the computing industry in a number of roles primarily as a software engineer but also a trainer, programmer, manager, quality controller, and customer support.
Website: www.raqs.co.nz
Blog: kashmir-bellyraqs.blogspot.com
Zumarrad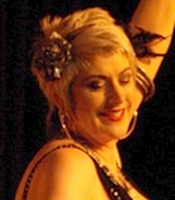 Zumarrad is based in Christchurch and started studying Middle Eastern Dance in 1998 and started teaching in 2002, initially under the tutelage and mentorship of Christchurch's Gendi Tanner.
Zumarrad is an independent belly dance teacher, researcher, and performer. She cites as influences and inspirations Tahia Carioca, Suher Zaki, Tito Seif and Randa Kamel, Dr Mo Geddawi, Denise Enan, Cassandra Shore of Minneapolis and Hadia of Canada. She continues to pursue education wherever possible with contemporary teachers of Egyptian-style dance, most recently with Jennifer Allen of Glasgow, who specialises in khaleegy and modern Egyptian orientale.
Zumarrad is the dance name of Brigid Kelly, who completed New Zealand's first masters-level academic inquiry into belly dancing in 2008. She retains a deep interest in the complex ways belly dancing plays out in our contemporary globalised culture. As part of that globalization of belly dance Brigid has be asked to present part of her paper to the IBCC in Canada. As a dancer, her passion is Egyptian raqs sharqi and its music, and good, old-fashioned, entertaining belly dance. She also loves world dances of all kinds.